Bodywork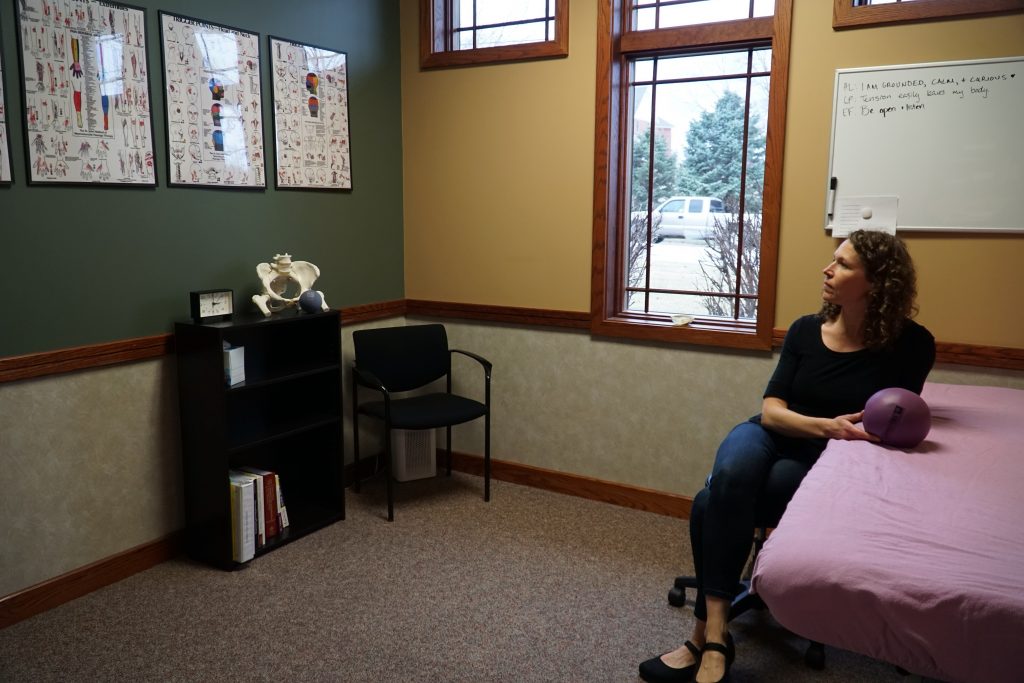 Heather uses a variety of techniques and modalities to bring balance back to the body and the nervous system. Each session begins with a conversation about your goals for the session, an exploration of your story, your symptoms, and the messages from your tissues.
These conversations help me understand what muscles, organs, or bodily systems need attention.
We'll review the results of this assessment and help you understand what I think could be contributing to your pain, answer any questions, and then dive into treatment.
Treatment usually consists of very focused manual therapy (I might just work your right anterior deltoid or your liver, for example, instead of working your entire shoulder or both shoulders). I not only treat the usual suspects (upper traps, posterior neck, etc.), but I also treat muscles, organs, and systems that often are overlooked, but which could be contributing your pain experience.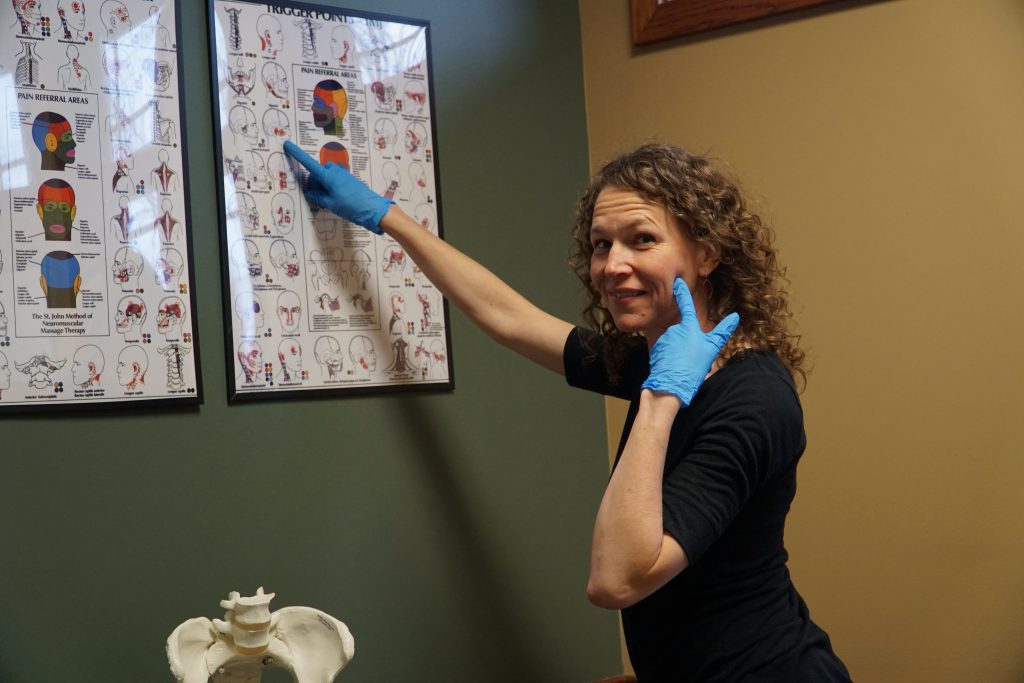 What types of pain can Heather help with?
Headaches, migraines, tinnitus, vertigo, TMJ disorders, sinus issues, neck pain, whiplash, frozen shoulder, thoracic outlet syndrome, tennis/golfers elbow, carpal tunnel syndrome, back pain, scoliosis, low back pain, digestive issues such as IBS, painful periods, hip pain, sciatica, shin splints, foot pain, plantar fasciitis, etc.
Can this treatment fix me?
I help you and your brain bring awareness to areas of the body that are misused, abused, or confused. This improved awareness, enhanced by expert targeted manual therapy and consciously done exercises, can help decrease pain and improve your performance. Ultimately, it's YOU that heals YOU, by using this new-found awareness and changing movement and thoughts regarding how you perceive yourself and your environment.
How long does it take to get better?
Some clients see marked improvement in their first session; however, many clients feel much better after the 4th session. Some clients see tremendous improvement after 10 sessions or so. It really depends on the severity and length of your symptoms, as well as other factors that influence your perception of pain (e.g. sleep, your thoughts about the pain, nutrition, movement, etc.)
What should I expect in a session?
During the session you could be up and down off the massage table, and you may be moving into a variety of positions (prone, supine, side-lying etc.) for treatment. To facilitate how active and varied the session can be, you will be dressed in either gym shorts or a gym shorts and a shirt that opens in the back.
Treatment will include education, using models or anatomy software, to help you understand what is going on in your body. You may also do some exercises, and you will likely get homework (if you would like it – YOU are ultimately in charge of what works for you).
Links to additional resources:
St. John-Clark Pain Treatment Center YouTube Page with lots of videos from Yours Truly!
Yoga Tune Up®
I teach a form of yoga called Yoga Tune Up®. Yoga Tune Up® is a fun and (honestly sometimes weird) movement practice that focuses on improving posture, decreasing pain, and improving performance with the use of novel yoga-inspired movements and self-massage.
Moving your body in new ways and stimulating receptors in your skin, fascia and muscles with self-massage balls provides an array of new input and stimulus to your nervous system, which can be a key to decreasing your experience of persistent pain.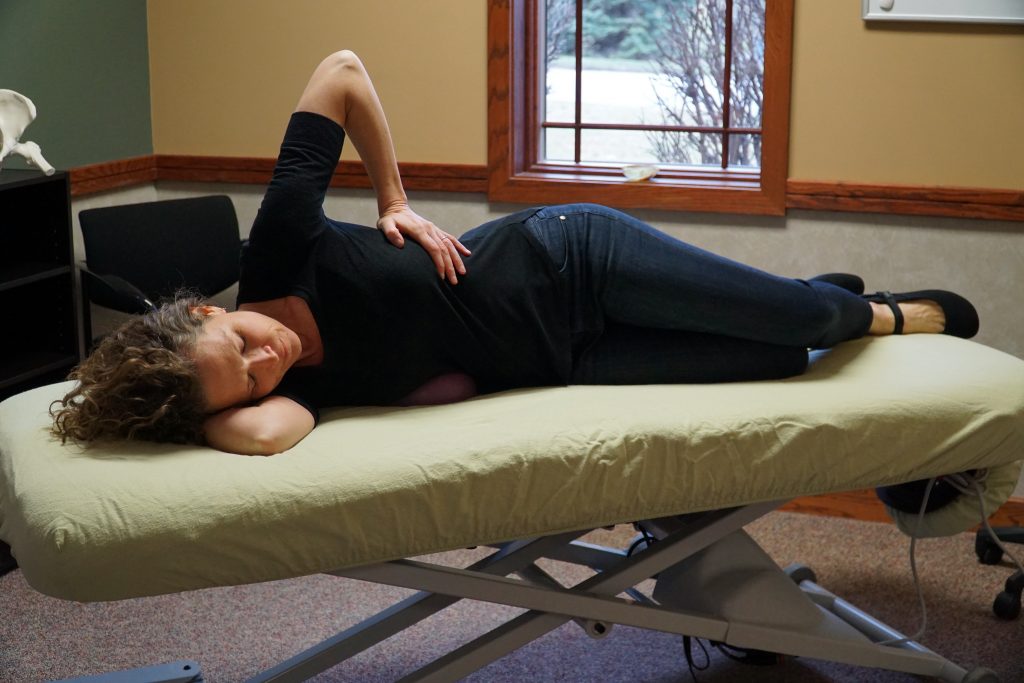 Affiliate link to purchase Yoga Tune Up therapy balls
My articles on Tune Up Fitness
Corporate Classes
Corporate classes Improve employee well-being, leading to improved engagement, improved performance, better collaboration, enhanced creativity, openness to change, and enhanced compassion for self and others. These classes help employees feel valued and connected to each other and their communities.
Classes utilize evidence-based tools and are tailored to the needs of the corporate client. Topics can include meditation, breath work, mindful movement, postural education, nervous system resiliency, and presentations on mindset and human flourishing. Classes can be presented over Zoom or in-person.
Testimonials
Heather has been providing meditation and movement classes to our company for several years. I look forward to the classes each week and am amazed at the benefit that 10-15 minutes a twice a week provides. The classes relieve stress, provide balance, and allow me to better prepare for the work day ahead.

I learn something new each week, and Heather provides additional information and resources for people who want a "deeper dive" into the topic discussed. On occasion I have recommended to a colleague that they may want to watch a specific recorded session, depending on the topic.

I would 100% recommend Heather's expertise and professional services to any company that is committed to their employees' well-being and health.

Stacey J. Bentley
President and CEO of Community Bank & Trust
I have worked for over 21 years in various professional careers in financial services, manufacturing and consulting. In all of those years there has been one outstanding experience that has set an employer apart from all employers and that is the benefit of self care. At this employer, they offered a movement and mediation class twice a week for 15 minutes. It was led by an outstanding instructor who is extremely knowledgeable and thorough. She provides a complete calming, mindful, thoughtful experience in just 15 minutes that really makes a difference in your day and week. The fact that this employer invested in this service for their employees speaks volumes; they really care about their employees. The benefit this provides the staff is beyond measure. It really makes a difference in employee morale and how to focus on the day's activities.

Kara Sturdevant
Heather is a gem! She is one of those people that can instantly make you feel more calm and relaxed the minute she starts talking. This is why I engaged her services for our employee wellness events. She led three sessions for our employees on mindset, meditation and gentle stretching in the workplace. The feedback on these events was incredible. Our employees really enjoyed the time with Heather, learning techniques to minimize stress, remain positive and use gentle movement to manage the impact of our desk jobs on our bodies. Heather's classes are a simple and effective way for employers to proactively help their employees better manage their personal wellness.

Beth Grabin, CPA, CFO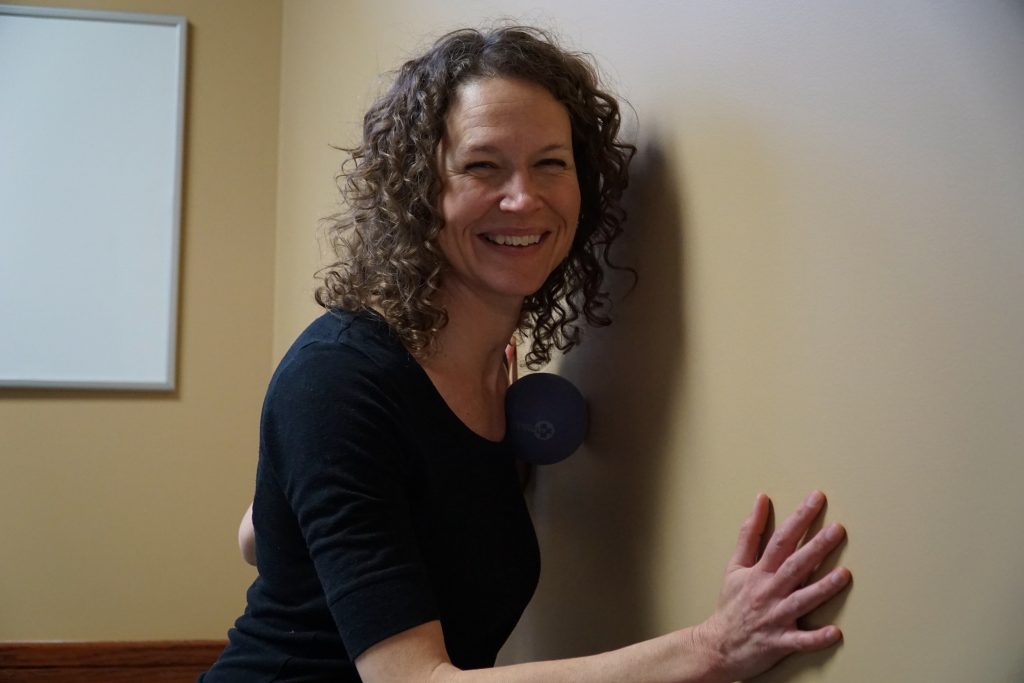 What if I have more questions?
Please contact me using the link above, email me at heather@spacetobehuman.life, or call or text me at 319-360-9662.