Tim and I took a perfectly timed trip to Florida over Christmas break. We left at 5AM on Christmas day and just positively SAILED down to Destin, FL. We were there in 15 hours, even with pee and fuel breaks. There was NO traffic, and the time passed swiftly due to some fascinating podcasts and the audio version of Wheel of Time: Eye of the World. We returned home on Thursday, right before Davenport got buried in about 6 inches of fluffy white stuff that was most definitely not sand. On our way back north, we saw so many instances of cars at a standstill going south. Sometimes it really pays to go against the grain! 😛
We had 4 full days down in Florida. Our hotel was right on the beach, so our days consisted of waking up (without an alarm), partaking of the free hotel breakfast (the Fairfield Inn hot breakfast is really not bad! They actually had protein options instead of just bagels, oatmeal and sugary yogurts), grabbing our gear, and heading to the beach. We sat on the beach, read, watched the waves, actually got into the water a VERY little bit, headed to town for lunch, came back to the beach for more reading, watching, wading, then walked or drove to supper, and then tried to watch TV in the hotel (SO MANY COMMERCIALS), and then went to sleep.
It was so eye-opening how HARD it was to actually let ourselves relax though.
Should we "make the most" of being there and DO more stuff – go stand-up paddle boarding, go hiking, check out museums, visit Seaside (the town where Truman Show was filmed), find all the best restaurants??
We decided that outside the door of our hotel was a gorgeous ocean with soft white, squeaky sand dissolved from quartz ages ago. That was enough to appreciate for 4 days.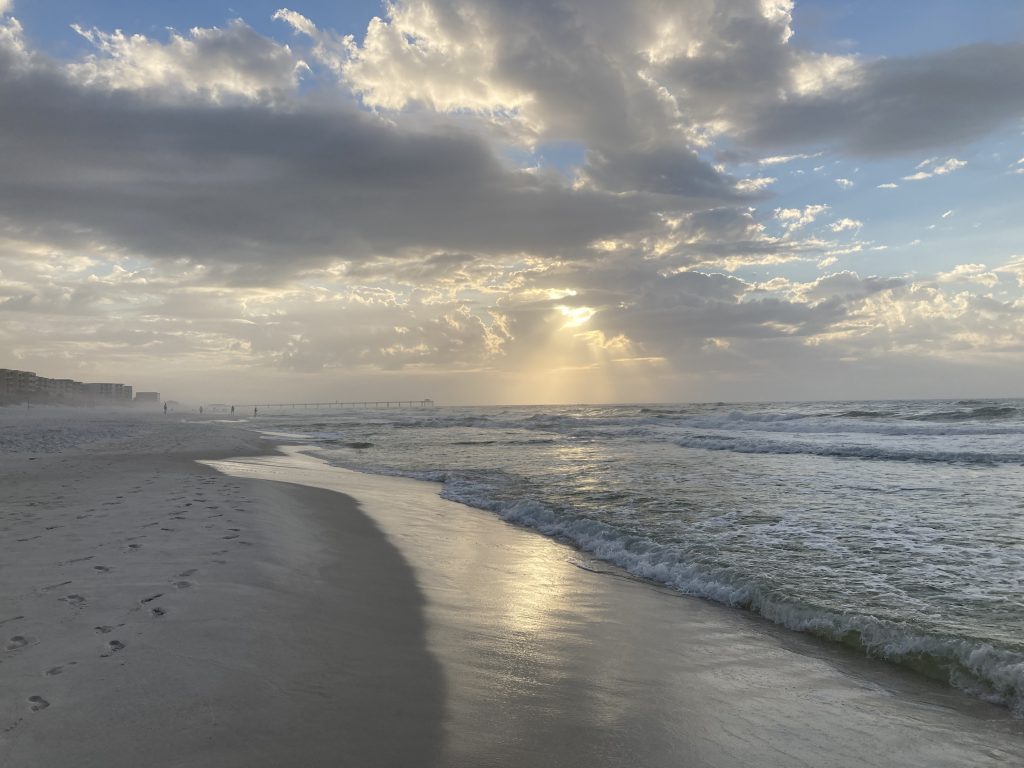 While at the beach I read a really amazing book, Healing Ourselves – Biofield Science and the Future of Health. The whole book is about our ability to heal ourselves and others via energy practices. At face value that may sound very woo woo, but there are dozens of studies that show the healing power of our thoughts, attention, and intention (what do you think causes the placebo effect!). Two things are very clear from the research the author relays in the book:
We are all interconnected.
We have so much more power to heal ourselves that when have been taught.
I plan to dive in to the practices outlined in the book and will share with you the ones that I love. In the meantime, to explore the concept of self-healing for yourself, you could start simply by taking a moment to notice your feet on the ground, soften up those soles, think about plugging your feet into the earth like you would plug your charger into a wall socket. Notice the energy in your feet, calves, and upper legs. Take a moment and ask yourself, "Who do I want to be today?" Set that intention for the day (I prefer to write it down to make it more concrete and visible), revisit it often, and see what changes in your experience of your physical, mental, emotional, or spiritual self/layer/body.
Space to be Human Updates
If you were unable to make it to my Introduction to Meditation class, but you are interested in the topic, you're in luck! I recorded the class, and you can watch it here at your leisure. Feedback and suggestions are much appreciated! If this class piques your interest, and you would like help in developing a meditation practice, you can book a session with me here.
Did you know that the Quad Cities is hosting its very own yoga festival?? The QC YogaCon will be held March 4-6, and guess who is teaching! Me! I am teaching a Yoga Tune Up® class (Total Tension Tunedown) on 4/5 at 4PM. You can find more details here.
That's all for today, my friends! Happy 2nd day of 2022! Please reach out to me at heather@spaceotbehuman.life or book a session with me here if you would like to feel better in your body.
Newsletter signup
If you would like to get these posts directly in your inbox, please sign up for my Newsletter here.