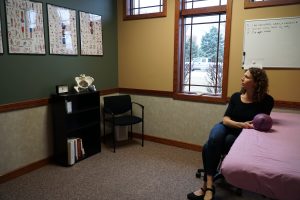 Well hello there! Let me introduce myself.  My name is Heather Longoria.  I am, at my core, a learner, sharer, and connector.  What I really love to learn – what really floats my boat – is the potential we have within us to heal and thrive.  And I MUST share what I have learned, I must connect people in pain to this information.
My fascination with the amazing human body really began in 2009 when I discovered the primal diet and realized what a huge impact lifestyle has on health.  I was floored that I was able to manage anxiety and depression by eating whole foods and moving my body mindfully and with regularity.
Since 2012 I have read everything I can get my hands on regarding movement, nutrition, stress-management, and manual therapy.  My thirst for knowledge and desire to share that knowledge led me to become a registered yoga teacher and certified neurosomatic massage therapist.
I want everyone to know that simple daily habits like eating well, moving as much as possible, and spending time tuning in to your Inner State will CHANGE YOUR LIFE.
If you can't move the way you want, due to pain, discomfort, or fear, contact me for a bodywork session, so we can restore freedom to your body and get you back in the flow.
Thanks for stopping by, and I look forward to meeting you!
Somatic Experiencing Trauma Resolution Practitioner – In Training – Intermediate Year
Dr. Sears Health & Wellness Master Certified Coach
CranioSacral Therapy Level 1, Upledger Institute International
Visceral Manipulation Level 1, Barral Institue
Certified Neurosomatic Therapist, LMT, 099905
FMT RockPods Certified, 6/1/19 (cupping)
Certified Yoga Tune Up® Teacher
Certified Roll Model® Method Practitioner
200 Hour Registered Yoga Teacher
My Office is located at: 2805 Eastern Avenue, Office 232, Davenport, IA 52803