"You are what you eat." It make sense that our bodies are a by-product of the food we eat. Food goes in the mouth, and our body turns it into skin, hair, muscles, curves, teeth, fingernails.

But did you ever think about your BRAIN being made up the food you eat? What would a brain made up of Cheetos and Mt. Dew look like compared to a brain grown from blueberries and walnuts?

Come to find out, the food that we eat has a HUGE impact on our brain health. And our brain health has a huge impact on our mental health.

I found this out firsthand about 11 years ago when I discovered the "Primal Diet." At the time, I was in a scary place. That sounds dramatic, but when I think of that time, that is the first emotion that jumps to mind. At the time, my anxiety was super intense. I didn't know what was causing it. At first I thought it was the fluorescent lights above my cubicle. I googled it and noted that they affected a lot of people negatively, so I asked the maintenance guys to remove some of the bulbs to lessen the intensity. Yet the anxiety persisted.

When I went on lunch-time walks with my friend, I would get a whisper of not feeling "right." I would feel as if I was slightly lilting. I felt a bit of panic. I focused intently on finishing the walk without alarming my walking partner. "I can make it. It's just 5 more minutes; then I can sit down in my cube."

When I was driving and hit a red light, I would have to blast the AC or roll down my window so that I could get a cold breeze on my face. I kept mint gum with me always – the freshness of it helped me keep my grip on consciousness when I started to feel the panic creep in. I was deathly afraid of passing out while waiting for the light to turn green.

The same sensations overtook me while waiting in line at the grocery store. The lights, the people, the not being able to MOVE if I needed to. All of these things triggered the anxiety – making me short of breath and overwhelmed with the fear of passing out. My grip on consciousness seemed way too tenuous.

I tried many things to address the anxiety. My doctor wanted to prescribe meds, but I wanted to try other avenues first. I got herbs for allergies and acupuncture treatments at Davenport Acupuncture, and that helped quite a bit. I saw a chiro at Hampton Health & Wellness, and that helped a lot too.

And the thing that helped me the most – the thing that changed my life and provided a huge A-HA! moment, was when I followed the primal 21-Day Total Body Transformation protocol (I really wish the book had a different name because it sounds SO pitchy and "As Seen On TV!"-ish.) But, for me, it really was a transformation. Within a week of changing my diet (eating only whole foods with lots of meat and veggies, removing gluten, dairy, and excessive sugar, changing up my oils to use olive oil and coconut oil, removing beer & wine, etc.), my anxiety was almost completely gone.

This was the huge A-HA! The food and drinks I was putting into my body was negatively impacting my brain health, and therefore my mental health.

The most common mental health disorders in the US (anxiety, depression, bipolar disorder, ADD and ADHD, addiction, dementia and Alzheimer's) are ALL affected by nutrition.

Research into Nutritional Psychiatry provides so much hope for those of us who suffer from poor brain health, so I wanted to share some highlights from a webinar I watched last week for my Master Health Coach Certification course.

What can be clues that our brain health needs attention?
Depression, anxiety, brain fog, memory loss, chronic fatigue, multiple sclerosis, neurodegeneration (Alzheimer's, Parkinson's), allergies, autoimmune disorders, persistent infections, mood issues, etc.
What can help us improve our brain health?
Adequate sleep
Meaning and purpose in life
Social connections
Proper hydration
Physical and mental exercise
Strong immune system
Quality food
Probiotics and prebiotics
Learning new things
Good gut health (the brain and gut are linked together via the vagus nerve, so gut health has a huge impact on brain health)
I know that can be an overwhelming list to tackle, so here are a few simple action items from the webinar:
Eat food that is GROWN instead of manufactured.
Hydration – The webinar stated that people should drink half their body weight in ounces/day. Even MILD dehydration of 2% affects brain function! I fill up a glass jar with 70 ounces of water each day, so I have a visual reminder of how much I need to drink.
Spice it up! Spices are super good for the brain, and there are 3 that are true superstars – turmeric, cinnamon, and oregano. These spices help improve blood flow to the brain and have positive effects on blood sugar, memory and attention.
Since I watched the webinar, I've been very conscious about eating food good for my brain. This concoction tasted way better than it looks!  It's made up of coconut yogurt, sunflower seed butter, blueberries, cinnamon, ground flax seed, walnuts, and some Four Sigmatic protein powder.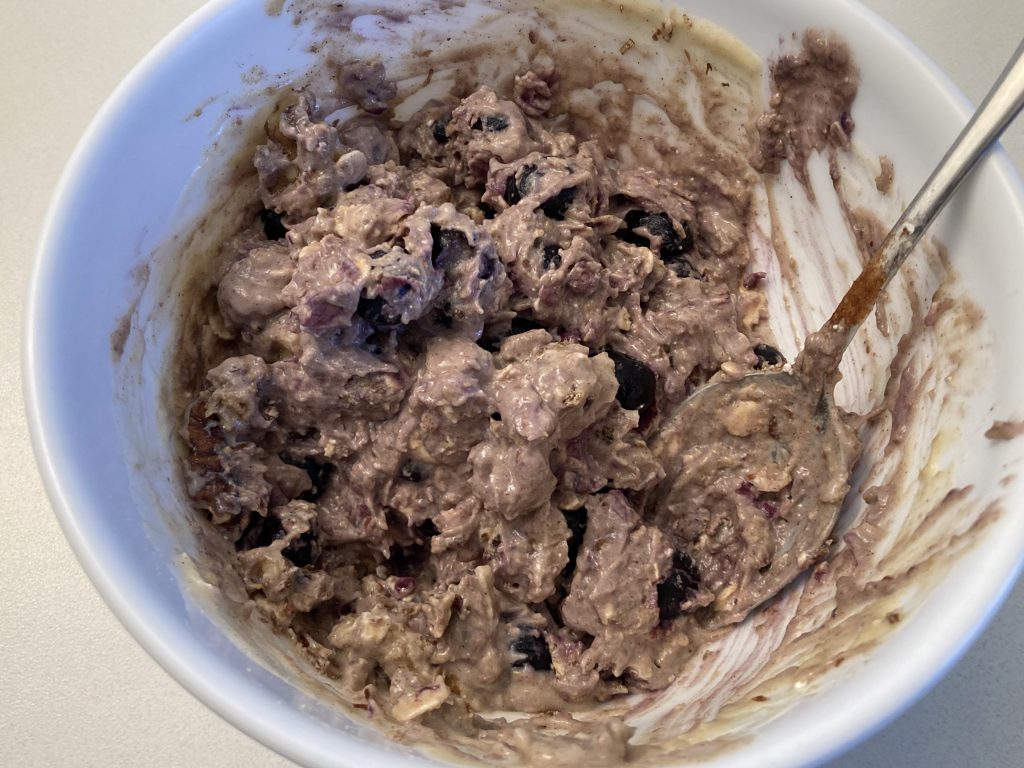 As always, when considering making dietary changes, check with a qualified healthcare practitioner who is familiar with your individual medical needs and history.

If you want to dive deeper into this topic, here is a book on the subject: Eat to Beat Depression & Anxiety by Dr. Drew Ramsey. I haven't had a chance to read this book yet, but I listened to a podcast with Dr. Ramsey, and the book sounded great. You can also get a ton of free info just by googling "nutritional psychiatry."

I hope you're having a stupendous Sunday!

Space to be Human Lab
If you are experiencing pain or if you are interested in how you can just FEEL BETTER in your body, you can book a bodywork session here.
Newsletter signup
If you would like to sign up to get these posts sent to you directly, please click here.